A powerful UETA/ESIGN compliant document signing integration for your Forminator Forms
You said it and we heard you. We received nearly a hundred requests from you to create a legally binding UETA/ESIGN compliant integration with one of the fastest growing WordPress forms on the market.
Our developers have been hard at work, creating and testing a new form builder integration for WP E-Signature…
We're back with a brand new addon that will be super helpful for generating UETA/ESIGN compliant contracts via your Forminator Forms.
Please say hello to Forminator Forms Signature Add-On by WP E-Signature!
Forminator Forms is the most beginner-friendly WordPress form builder available.  It boasts conversational forms, mobile-responsiveness, smart conditional logic, and many more powerful features.
What would you do if you discovered the contracts you used in running your online business were not legally binding?
Imagine being in a courtroom with an estranged client who's claiming that they never agreed to your contract.
You pull up the contract and after a brief review, the judge announces that the electronic signature used in the contract was not legally valid.
He then asks if you have anything else to support your case.
Hopefully it will never come to this, but if it did, what would you do?
The document signing industry has very strict rules and regulations for legal contracts, invoices, employee agreements and any other legally binding document you may use in your business.
If you use the current Forminator Forms Signature Add-On to collect signatures, you're only collecting an image of a signature.
And according to the Super Signature's website (the software used for most signature add-ons) their signature pad is not compliant nor do they plan on being compliant with ESIGN laws in the future.
Good news for you, WP E-Signature helps bridge the gap for Forminator Forms users.
With the WP E-Signature Forminator Forms add-on, you can make sure you're covered in the eyes of the law.
With this new integration, we bridge the gap between the beautiful Forminator Forms on your site and legally binding, UETA/ESIGN/GDPR compliant signatures.
With this add-on, you can:
✅ Redirect users to a WP E-Signature contract after a Forminator Forms submission.
✅ Use your existing forms! There's no need to build any new forms. Include Forminator Forms shortcodes in your eSignature document to populate data into a legally binding UETA/ESIGN/EU compliant contract.
✅ Create a contract with submitted data automatically whenever a client completes the form.
✅ No need to worry about forms anymore. Let them come in on auto-pilot, while you focus on other areas of your business.
Read on to see the fascinating capabilities of the UETA/ESIGN Forminator Forms Signature addon in action.
Powerful eSignature Automation with your Forminator Forms Data
These days, customers expect less clicks, and automation.  The less time a user has to spend onboarding into your system the better for you (and the better for them).
One of the standout features of WP E-Signature is that you create a  "Stand Alone" document. The Stand Alone Document makes it simple to collect signatures on all sorts of forms!
You can use it for Permission Slips, Terms of Service, New Employee Agreements, NDAs and more. You can create a standardized document every time a website visitor views your page, they will see a fresh copy of your document. They can fill in the required fields and then type in or draw their signature.
Connect your Forminator Form Builder Data.
With the new Forminator Forms integration, you can dynamically insert your Forminator Data into any Stand Alone Document. Simply select the "Forminator Form Data" option from the Contract Builder in WP E-Signature.
Choose the Forminator Form you'd like to connect with your contract.
Once you have created your Forminator Form you can add placeholders for any of the fields that your signers will be filling out in their Forminator Form submission.
Select the field from your Forminator Form and generate a shortcode.
With the smash of a button, you can bring over and strategically place any fields throughout your contract so that the form submitter only needs to add their Signature to your contract.
You can use conditions logic to hide/insert data in your final contract
Keep in mind, you can add as many fields as you'd like and then use conditional logic in the Forminator Form and if there is data that was not relevant because the conditional logic was not met, it will not show up in the final contract.
Once you have inserted all of the fields you'd like to insert including the actual contract text itself, you are ready to move onto to document options.
Choose your powerful document options
Get notification emails once your contract has been signed, automatically add your signature to the contract, save the document as a template (to be modified and reused over and over again), generate and send a PDF with the final email, and more.
Now, head over to the Forminator Form you'd like to connect and add the integration over there.
First, be sure that the "WP E-Signature" integration module is turned on.
Signing logic, time.
You can choose to "Redirect your signer to the Contract/Agreement AFTER submission"
OR
"Send the signer an Email requesting their signature AFTER submission"
You can automate reminder emails, so you don't have to think about manually reminding your signers if they don't finish the agreement/contract.
WP E-Signature will send 3 reminders to anyone with active documents in your "awaiting signatures" folder.
These helpful reminders will nudge your signer in the right direction and keep your document at the forefront of your signer's mind (and at the top of their inbox!).
Pretty slick, right?
The signer has the option to "Draw" OR "Type" their signature.
Add your branding and logo to the WP E-Signature emails.
Tamper-resistant Signature Certificate
The WP E-Signature Audit Trail and E-Signature Certificate that gets generated when your document is complete, is one of the most advanced audit trail systems in the online signature industry.  We pride ourselves in e-signature security and invest heavily in doing everything that we can to protect you and your signers if a document should ever be challenged in a court room.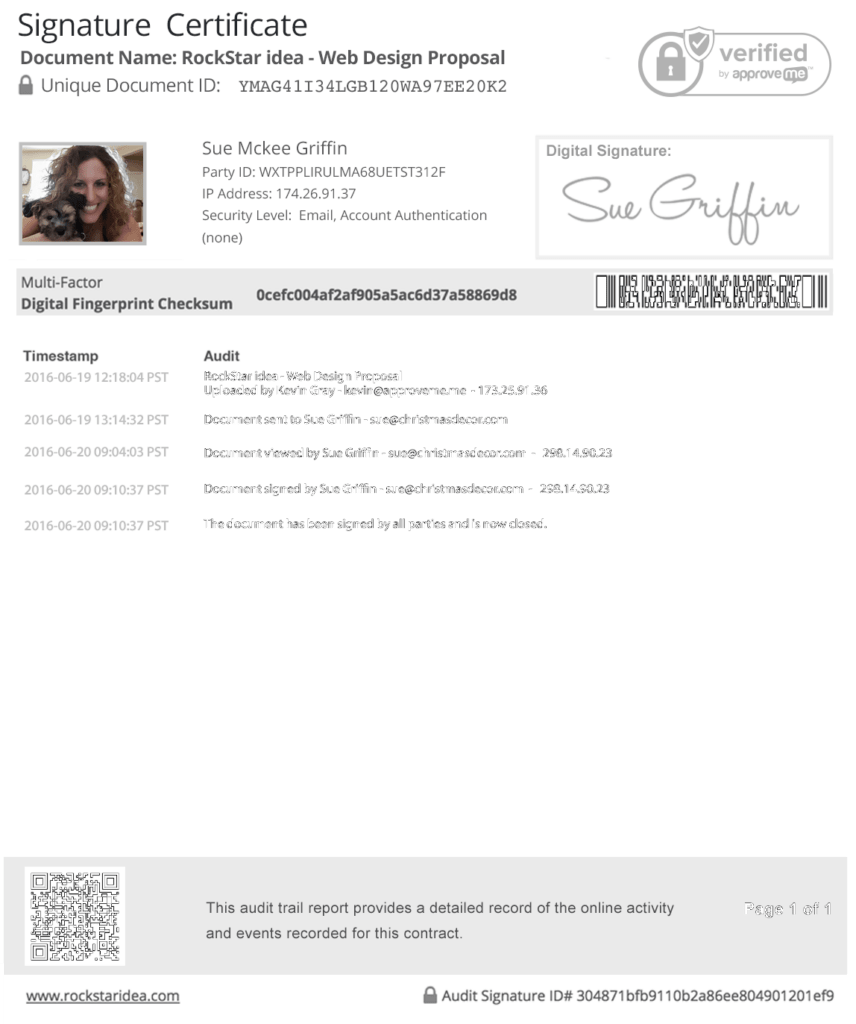 Ready to try it?